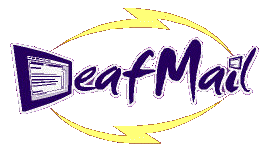 The DeafMail organisation
---
What does DeafMail do?
Provides an e-deaf-community for its members that is conducted in a friendly and helpful social climate.

Encourages participation and consumer-related activities amongst its members.

Assists in demonstrating the effectiveness of the use of email amongst members and deaf people in general.

Represents, supports and provides assistance to its members on their consumer interests and issues.

Takes steps to establish direct or indirect links and maintains contacts with organisations and services whose consumer interests are similar in whole or in part.

Uses an Internet content provider that is favourable in terms of facilities and services.
What else does DeafMail do?
DeafMail's business is e-administrated and is run by the deaf members who are elected annually to the Executive Committee. There are honorary positions for Coordinator, Assistant Coordinator, Finance Officer and 2 committee members. The e-AGM is held during March.
DeafMail is a member of the following umbrella organisations:
UKCoD (UK Council on Deafness)
TAG (Telecommunications Action Group)
---
Home / Organisation / Clubhouse / Membership / Accessing DeafMail / Join / Contact