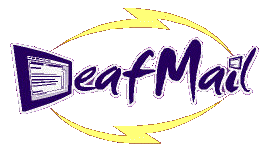 The DeafMail clubhouse
---
Where is DeafMail?
DeafMail is on the CIX conferencing system, which can be accessed from anywhere in the UK (and the world!) by users who have a CIX account.
DeafMail has its own conference so its members, who are deaf (any degree of hearing loss) and those involved with deaf people in some way, come together in the friendly unique atmosphere of their e-clubhouse.
The DeafMail conference is one of the thousands of conferences on CIX. You can join any of the CIX conferences of any subject you can think of or imagine.
What is conferencing?
Unlike newsgroups, e-groups or mailing lists, the CIX conferencing system allows DeafMail to divide its conference into easy topics. You can even pick and read the topics in order of what you are most interested in.
The messages that you 'post' are joined (threaded) together like a tree with branches to make the conversation flow easy to follow. Joining in the conversation is straight-forward - click a button or press a key and you can start a new thread (subject) or just add a comment to an existing thread of messages. Because of the thread, you don't need to quote huge chunks of earlier messages.
You can input or seek information, exchange ideas, answer queries, add your own ha'penny worth (point of view), recount your own experiences, etc., just as you would in a face to face conversation except that no-one can interrupt you as you 'post' your message.
How is conferencing managed?
You will be supplied by CIX with an offline reader software, Ameol, which organises the messages so that they are easy for you to follow. Ameol can run together with or separate from your current Internet service.
You are only on the phone for a very short time when you 'blink' to CIX to download and upload the messages onto Ameol. This keeps the cost of telephone calls down to a minimum as you do your reading and typing of messages offline (off the phone).
What are the DeafMail conference topics?
Aural for issues pertaining to the ear.
Beginners for help and hints.
Chatter for anything under the sun!
Computer for computer related discussions.
Contacts for contact information.
Deaflife for deaf issues not covered by other topics.
Email for email related discussions.
Internet for Internet related discussions.
Media for broadcasting and media issues.
Noticeboard for information, notices and reports, etc.
Reminisce for discussion on past deaf-related events.
Social for organised DeafMail meets by members.
Sports for deaf sports and deaf people in mainstream sports.
Telecoms for telecommunications issues.
Welcome where you'll be welcomed!
Don't miss out - join DeafMail and you'll be glad you did!
---
Home / Organisation / Clubhouse / Membership / Accessing DeafMail / Join / Contact