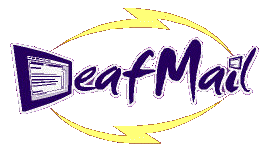 Deaf People's Consumer Group
---
Welcome to DeafMail!
DeafMail is UK non-profit making, email-orientated deaf consumer organisation and social club.
In the friendly, social atmosphere within DeafMail, the members help and support each other, supply and exchange information, discuss any issues and subjects of interest or just have a chat.
Based on the excellent CIX conferencing system, DeafMail is accessible 24 hours a day, 365 days a year. In using email and conferencing, there are no communication barriers at all.
DeafMail membership is FREE. A CIX account is needed and new DeafMail members get one month FREE trial CIX usage.
To find out more, click on the following DeafMail information pages:
---
Home / Organisation / Clubhouse / Membership / Accessing DeafMail / Join / Contact