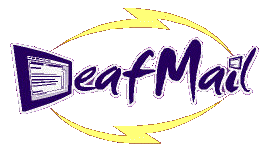 Joining DeafMail
---
Who can join DeafMail?
Deaf people with any degree of hearing loss (deaf/deafened/hard of hearing) are eligible for membership. Applications from hearing people for Associate membership are considered if they are involved with deaf people and/or associated with deafness. Members must not be under 18 years of age.
As DeafMail acts as a consumer group and social club and to ensure members are joining for their own personal interests and needs, membership applications are not accepted from organisations, services and those accessing via network systems in business or education unless set up entirely for personal use.
What is the cost of membership?
Membership of DeafMail is FREE. DeafMail is funded mainly through donations from members.
What are the main benefits of being with DeafMail?
You will be coming together with other members who enjoy meeting in the unique DeafMail club atmosphere via their computer no matter where they come from, no matter who they are and no matter how they communicate. You will benefit from being in contact and exchanging information, experiences, advice and views.

Don't miss out - join DeafMail and you'll be glad you did!
---
Home / Organisation / Clubhouse / Membership / Accessing DeafMail / Join / Contact