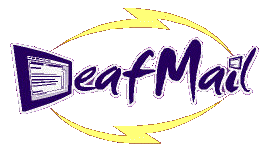 Accessing DeafMail
---
What is needed to get on?
As DeafMail is using the CIX conferencing system, you need a CIX account to access DeafMail. On CIX there are many, many other conferences of any subject and they are UK-orientated. A CIX account also provides an email account and access to the Internet. CIX is highly rated for fast connection, speed and reliability of access.

PC users using Windows will also need the Ameol offline reader and communications software (supplied free on the CD by CIX) to access CIX conferencing and manage the messages sent and received to and from the CIX conferencing system.
What is the one month free CIX trial usage arrangement?
As you are already using an Internet Service Provider (ISP) and taking up the one month free trial usage and CIX, the recommended arrangement is to set up CIX separate from your current ISP and try out DeafMail and CIX. This means that during the one month trial, you carry on with your current ISP setup. After one month and assuming you decide to continue with DeafMail and CIX, you start paying for the lower CIX tariff account and you have the option to either stick to the same set up or integrate CIX with your current ISP or switch over to CIX
For the first month you get:
One month FREE trial usage of CIX (special offer for new DeafMail members).
CD consisting of Ameol2 offline reader and communications software.
Email account.
Local phone call access (0845 number).
What happens after the free trial period?
If you continue after one month, you pay CIX and get:
Monthly minimum of £6.25 plus vat (lower CIX tariff account).
2.5 hours free online time for all CIX access.
After 2.5 hours, online time is charged at 4p per minute off peak and 6p per minute peak (peak is 8am to 5pm Mondays to Fridays and off peak is all other times).
Email account.
Local phone call access (0845 number).
Usually 2.5 hours is enough because each CIX blink (connection) to download and upload CIX conferencing and email messages takes on average only 1 to 2 minutes. This works out at an average of about 100 blinks per month.
If you have any queries or need further clarification, please contact DeafMail.
---
Home / Organisation / Clubhouse / Membership / Accessing DeafMail / Join / Contact